t.v. series
the practice
new york news
elvis

t.v. guest spots
ally mcbeal
picket fences
earth 2
party of five
law and order
the young riders
quantum leap

t.v. movies
...voice from the grave
mary & tim
snowbound
lifepod
for their own good
a woman scorned
switched at birth
out on the edge
...hillside stranglers

movies
e=mc2
mr. jones
there goes my baby
teen vid I (vmovie)
zapped! again (vmovie)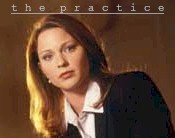 Television Series
The Practice
On this ABC television series created by David E. Kelley ( Chicago Hope, Picket Fences) that debuted in 1997 as a mid-season replacement, Kelli Williams portrays Lindsay Dole. Lindsay, who is romantically involved with Bobby Donnell (Dylan McDermott), is an impassioned, talented lawyer. For this role, Kelli was nominated in 1998 as Best Supporting Actress by the Viewers for Quality Television. Read the episode guide for "The Practice" here.
New York News
Mary Tyler Moore starred in this short-lived CBS sitcom in 1995 as a journalist, along with Kelli, Melina Kanakaredes, Gregory Harrison, Mary Tyler Moore, Anthony DeSando, Madeline Kahn, Kevin Chamberlin, and Joe Morton. Kelli played Ellie. Read the episode guide for this series here.
Elvis
Kelli portrayed Mattie Walker in this 1990 television series. Anyone with more info about this series please mail me.
---
[Main] [Updates] [Biography]
[Images] [Career] [Misc.]
[Site Stuff] [Help Wanted]

---