t.v. series
the practice
new york news
elvis

t.v. guest spots
ally mcbeal
picket fences
earth 2
party of five
law and order
the young riders
quantum leap

t.v. movies
...voice from the grave
mary & tim
snowbound
lifepod
for their own good
a woman scorned
switched at birth
out on the edge
...hillside stranglers

movies
e=mc2
mr. jones
there goes my baby
teen vid I (vmovie)
zapped! again (vmovie)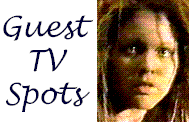 Television Guest Spots
Ally McBeal
Kelli guest-starred on this FOX TV Series in an "Ally McBeal"/"The Practice" cross-over episode. It was the twentieth episode of "Ally McBeal"'s first season and aired on 4/27/98.
Picket Fences
The second to the last episode of "Picket Fence"'s series had Kelli portraying Hannah Mary Beiler, an Amish rape victim who refused to identify her attacker. When another woman is raped by the same man, her family sues the Beilers. This episode aired on 6/19/97. View screen shots of Kelli from this episode here.
Earth2
Kelli was Mary (see above photo) in Earth 2, appearing in two episodes, the tenth and twelfth of "Earth 2"'s first season. The episodes aired on 2/05/96 and 2/26/96.
Party of Five
In the first season of this FOX series, Kelli portrayed Annie, the daughter of the man who was responsible for the death of the Salinger children's parents. This aired around Thanksgiving time in 1994.
Law & Order
Kelly portrayed Maggie in the 17th episode of "Law & Order"'s second season, which aired on 3/03/92. The character of Maggie is a 16-year old drug addict who ran away from the shelter where she was staying and accuses a nun of sexual abuse. Kelli appears in several scenes of this episode.
The Young Riders
Kelli appeared as Emily Metcalfe on 11/19/91 in the third season's fifth episode. Emily Metcalfe was somehow involved with a main character on the show, Ike. A few screenshots of Kelli's appearance can be found here.
Quantum Leap
In the second season episode entitled "Disco Inferno", Kelli played Shannon. This episode aired on September 27, 1989, and was the second episode of the season.
---
[Main] [Updates] [Biography]
[Images] [Career] [Misc.]
[Site Stuff] [Help Wanted]

---